Enterprise-Class Backup and Support
Bacula is the only fully Open Source solution for networked backup, data recovery and verification of computer data, offering a ten times lower cost structure vs. proprietary systems, higher reliability and proven performance in mission-critical enterprise environments. Bacula Systems recognizes the importance of providing world-class technical support and service.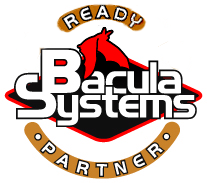 Bacula Systems increases reliability and can cut IT backup costs significantly.
Contact us regarding solutions from Bacula Systems today.